Consultation and Farmer Updates
New Zealand Meat Board Update 2019
The New Zealand Meat Board (NZMB) is a statutory body governed by the Meat Board Act 2004. Its objective is to facilitate capturing the best possible ongoing returns from quota markets for New Zealand and its meat industry. It is also responsible for managing the Board's reserves, and other assets in the interests of livestock farmers. The reserves are primarily to assist the meat industry's response to any major industry crisis, but also provide an income stream that provides funding for industry good activities.
NZMB is also required to update livestock farmers on its activities, and consult with them on significant changes that are proposed. In this update, NZMB is seeking feedback from livestock farmers on NZMB providing funding to Beef + Lamb New Zealand Genetics (BLG), as well as providing an update on how changes in its investment management approach for its reserves are progressing and its preparations for Brexit.
Feedback sought – Industry good funding to B+LNZ for Beef + Lamb Genetics
NZMB Grant Funding
NZMB, as part of its purpose under the Meat Board Act 2004, provides funding from its reserve dividends for a range of activities in the interests of livestock farmers, including funding for industry good activities.
NZMB grant funding from interest income for 2018-19 was capped at $1.8 million and is proposed to be $1.2 million in 2019-20 subject to investment returns.
NZMB is proposing that it continue to grant $1.2 million this financial year to help fund BLG's activities.
For the last six years, NZMB has granted funding to BLG, including as part of a five-year capital investment partnership with the Ministry of Business Innovation and Employment (MBIE). As part of this funding BLG was required to be separated from Beef + Lamb New Zealand Ltd (B+LNZ) with its own governance. On 1 October 2019 after MBIE's funding was completed, BLG was amalgamated back into B+LNZ.
What's been achieved to date
The partnership programme with the MBIE had four objectives.
Establish a next generation genetic evaluation system.

Understand genetic

traits

by environment interactions.

Research and establish new traits of economic significance.

Understand the drivers and implement technologies for profitable genetic gain.
The key achievements from the BLG Partnership Program were:
A next generation evaluation system giving seamless integration of genomic information with pedigree and performance records resulting in more accurate breeding values particularly in young animals.

New traits contributing to 24 new breeding values, including

Stayability

, Body Condition Score, and Meat Quality.

nProve - a new intuitive IT-customer interface to replace Sheep Improvement Limited (SIL).

A new pathway for genomics – a collaborative lab policy between BLG and genotyping providers that provides a consistent platform of technologies for breeders, with flexibility and services that are compatible across genotyping labs.

Dairy beef progeny tests – identifying beef genetics for profitable dairy-beef production.

Software tools for sheep breeders and commercial farmers (Ram Finder, Flock Finder, Ram4Ram).

First prediction of feed efficiency for the NZ sheep industry.

Five beef progeny tests based on commercial farms identifying beef genetics which are most profitable for New Zealand farming systems.

Establishment of a Quantitative Genetics Senior Lecturer position and postgraduate degree course at the Masters level at Otago University.
New breeding scheme with the setup of Next Generation Sheep Progeny tests

, strengthening connections and bench

mark

ing across the industry.

Leveraging the Beef genetics program to establish a $5.2 million, three-year collaborative trans-Tasman project with the Meat and Livestock Australia Donor Company to carry out research on maternal beef genetics. This project was completed in September 2019.

Development and release of the new NZ Genetic Evaluation (NZGE)

,

a

single, weekly evaluation that includes all flocks. This is a change from the previous multiple evaluations and estimates of merit to a new single evaluation with one estimate of merit. The end result is an evaluation that includes all flocks, all information, best estimates of genetic merit and ability to benchmark rams.

Introduction of National Breeding Objectives with the establishment NZ Standard Indexes (NZ Terminal Worth and NZ Maternal Worth) to make it easier for farmers to select genetics that will be profitable for their farming systems.

New modules on SIL, sheep milking, meat yield, methane (PGGRC), Meat Quality (

FarmIQ

).

In consultation with industry, producing a new beef genetics strategy with the following five pillars:
Information infrastructure: collection data from multiple sources.
More phenotypes: e.g. for greenhouse gas emissions reduction, reduced nitrogen leaching, residual feed intake, meat attributes, longevity, disease.
Phenotypes on more animals: e.g. processor, commercial and dairy.
Genomics: at both stud and commercial level.
Future proof breeding strategy: cross breeds, multi-breed analysis.
What NZMB's ongoing grant will deliver
This grant will enable BLG to continue on its work at speed and therefore deliver improved genetic tools to farmers faster.
With the completion of the MBIE programme, BLG will now move to a phase of consolidation. The next year will see nProve rolled out to first ram breeders and then commercial farmers, helping them to make better and easier ram purchasing decisions. The progeny tests and genetic evaluation which underpin the information farmers use for making genetic decisions will continue.
In the beef industry, BLG will continue the successful diary beef progeny test, building the confidence of dairy farmers to use beef genetics in their herds, and the beef progeny tests across the country. A key piece of work will be an application to MPI for a multi-year project to deliver similar tools that we have in the sheep industry to the beef industry. This funding bid will require co-funding from BLG.
Have your say on the proposal for NZMB to provide funding of $1.2 million to Beef + Lamb Genetics in the 2019/20 financial year please either reply to this email with your thoughts, or fill out our online survey at https://www.surveymonkey.com/r/C5W8MZ9 no later than 15 December 2019.
Update
s
on
NZMB Reserves Management
and Red Meat Profit Partnership
Background
In April 2018, farmers approved a change in investment policy to move from a fixed interest and cash asset class to a balanced portfolio approach which asset classes now includes equities (New Zealand and international). The rationale for the change is to take a longer-term investment horizon, over which a balanced portfolio will out-perform a cash and fixed interest only portfolio. The increased return would allow the reserve funds to be inflation proofed. The increased risk and return profile is shown in Chart 1 below.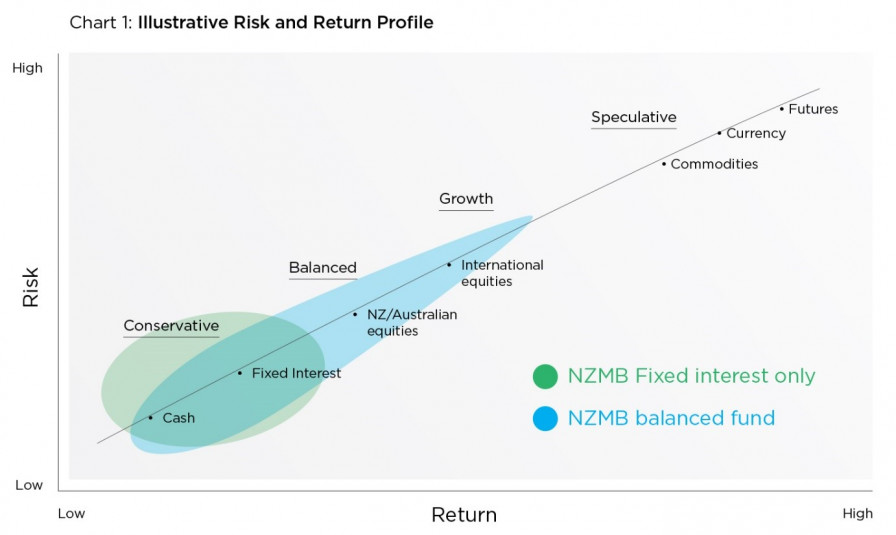 In December 2018, after an extensive request for proposal process, Jarden (then branded as First New Zealand Capital) was appointed as the Investment Manager.
Since December 2018 the Board has been transferring reserve funds from the previous fixed interest portfolio to Jarden for fund management and this will continue until December 2019 in order to average entry costs to the new fund over twelve months.
A detailed Statement of Investment Policies and Objectives (SIPO) was developed in conjunction with Cambridge Partners (the Board's independent investment advisor) and the fund management and performance is monitored against this document.
Progress to date
Up until 30 September 2019, $54 million has been transferred to the Investment fund managed by Jarden. The return at 30 September is 14.8 percent after fees and tax. The return to date is well ahead of expectations and has benefitted from strong equity markets and a falling New Zealand dollar. There is substantial market volatility and this return will move around over time.
Full results and commentary will be included in our annual report expected to be available in January 2020.
Red Meat Profit Partnership
2018-19 was the last year of funding for the Red Meat Profit Partnership (RMPP) from capital reserves. The Board had approved supporting the B+LNZ funding commitment to RMPP up to $10 million over the life of the programme, and this was contributed in full at 30 September 2019.
Great progress has been made with developing a common farm assurance plan (NZFAP), a prototype for Electronic Animal status declaration forms, the Action Network extension model that is rolling out across the country and sector capability initiatives including Agri-Women's Development Trust Understanding your Farming Business courses and Pathways to Farm Business ownership.
Details of RMPP activities can be found here: https://www.rmpp.co.nz/
B+LNZ will be responsible for funding the ongoing contracted contributions from levies in 2019-2020 and integrating parts of RMPP back into B+LNZ and other partners after the conclusion of RMPP in September 2020. The transition plans are being developed over the 2019-20 year.
Updates on
Quota Management
Quota Utilisation
Year-to-date utilisation of New Zealand's major red meat quotas are down significantly on the basis of a mixture of uncertainty around Brexit and strong demand from other markets. As at 31 October 2019 European Union (EU) Sheepmeat and Goatmeat quota is currently tracking down 20 per cent on last year – at around 50 per cent utilisation of the 228,389 tonne (carcase weight equivalent) quota with two months of the quota year to go. Exports under the United States Beef and Veal quota are back 30 per cent year-on-year, with 59 per cent of the 213,402 tonne quota used with two months to go.
Exports of High Quality Beef to the EU are up 6 per cent, though, with 33 per cent of the 1,300 tonne quota used. This quota operates on a July-June year, rather than a calendar year.
Brexit Preparation
A major part of NZMB's work programme over the past 12 months has been to ensure all our quota management administration systems, including for allocation and certifying quota entitlements, are prepared for a situation where the United Kingdom left the European Union without any agreement on their future trading relationship.
Despite shifting Brexit deadlines and continuing uncertainty, the Board has worked closely with exporters, the Meat Industry Association, B+LNZ and the New Zealand Government to put in place contingency plans to mitigate against major disruption should this happen.
26 November 2019