27 Apr 2022

Change, challenges and innovation in New Zealand's red meat sector highlighted in new book
Change, challenges and innovation in New Zealand's red meat sector highlighted in new book
New Zealand's sheep and beef sector has used a mix of collaboration, ingenuity and innovation to survive and thrive through a period of volatile political, cultural and economic uncertainty, a new book soon to be published will reveal.
Commissioned by the New Zealand Meat Board (NZMB) to celebrate its 100th anniversary, "Meeting Change: the NZ Red Meat Story 1997-2022", covers the sector's journey over the past 25 years and finds there's plenty to celebrate.
Published in June, Meeting Change will be the third in a series of histories about the sector: the first being "Golden Jubilee" edited by Dai Hayward (1972) and the second "Meat Acts", written by Janet Tyson and Mick Calder (1999).
Authors Ali Spencer and Mick Calder's research for this latest record included over 50 interviews with sector leaders such as Sir Graeme Harrison, Jeff Grant, Mike Petersen, Craig Hickson and the late Tim Ritchie.
"It never ceases to surprise me how much has changed in such a short space of time," says Mick Calder.
"This book highlights the many innovations and strong characters in the sector and the extraordinary culture change and events that have taken place."
Andrew Morrison, chairman of the NZMB, said the book demonstrates the sector's resilience over the past 25 years, the evolving role of the Board and the importance of Beef + Lamb New Zealand.
"While B+LNZ has taken over the sector's industry good responsibilities, the NZMB continues to deliver for the industry with its effective quota management function helping underpin the sector's success.
"The NZMB currently oversees $2.3 billion of red meat exports to the quota markets of the European Union, United Kingdom and United States. It also has responsibility for $82.2m of farmer reserves.
"This provides crucial funding to assist in major industry crisis to re-open export markets, maintain prudent level of net assets to avoid jeopardising quota markets and the integrity of quota management systems, and deliver funding for industry-good activities such as genetics.
"The Board's duties will expand even further with NZMB taking on responsibility for the administration of the transitional Free Trade Agreement quotas between the UK and New Zealand once the deal is ratified by both countries."
Meeting Change, which has been edited by Janet Tyson, will be published in hardback and paperback in New Zealand in late June by Mary Egan Publishing and is ONLY available from https://meetingchange.nz or via sales@meetingchange.nz.
Pre-order your copies now – and get 10 percent off the cover price before 29 June 2022 – by using coupon code MC-NZMB22.

"Meeting Change: the New Zealand red meat sector story 1997-2022", Ali Spencer and Mick Calder, Mary Egan Publishing.
Hardback $69.99 (ISBN: 978-0-473-60980-1)
Paperback $49.99 (ISBN: 978-0-473-60979-5)
Further information and distribution at https://meetingchange.nz. Contact: Ali Spencer ali@spencerpr.co.nz. DDI: 021-344 286.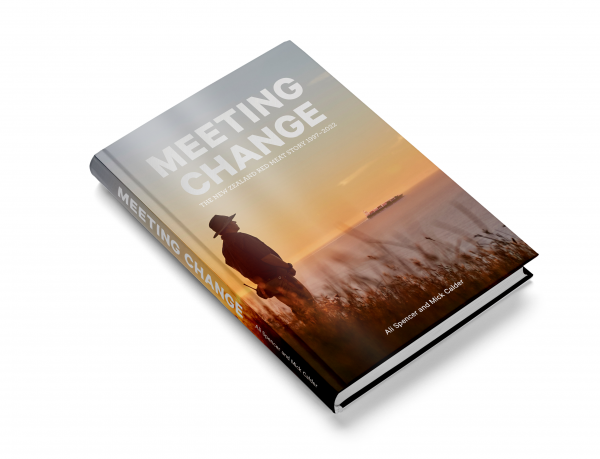 Related News